Chartwell House. The National Trust.
We were proud to be asked to work on Sir Winston Churchill's former home Chartwell.
Amongst the windows that has rusted were many repairs to traditional leaded lights that were still in excellent condition, he we made individual repairs to the existing leaded lights without the need to remove them. This work is time consuming and exacting work we also needed to source glass of the era to match the undulating surface of the existing glass. This we managed from our own stocks of glass to a very pleasing effect.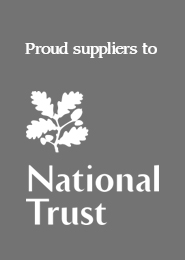 Other windows required more work however, here we had to remove the metal windows for restoration along with the leaded lights housed in them. They were brought back to our studio were we completely refurbished the metal frames, removing all of the rust, replacing metal sections to match the original then grit blasting clean before coating with a zinc based primer and a black undercoat before being re- fitted back into position with fully restored leaded lights. Fit to face the future.
Quaker Meeting House
Oak Windows, Sussex Pins and Leaded Lights.
We were asked to price for the front elevation of this Quaker Meeting House.
The work consisted of two small windows and two large windows which had deteriorated over time. The Trustees wanted to put the Meeting House back to how it would have been before it had deteriorated.
We worked with the Conservation Officers wishes to remake these windows to dimensions to match the original exactly, they also required the traditional "Sussex Pin" opening casements restored.
Sussex Pins are windows that originated in Sussex but crept over the borders into Kent, Hampshire and Surrey over the many centuries since they were originally made by a Sussex Blacksmith in wrought iron, they are quite a basic construction being made from one inch wide framework and two "pin" hinges allowing the casement to simply lift off in the opening position allowing for easy painting, the leaded light is attached to the Sussex Pin by a series of holes drilled at regular intervals, the leaded light is placed on top then a copper wire is soldered to it through the holes, the copper wire is then soldered from behind literally attaching it to the Sussex Pin.
These we restored as you can see in the photo along with "fixed" leaded lights. As very little original glass remained we had to source the correct glass for the era, we do usually keep this glass in stock however with many of the worlds production of antique glass in demise our stocks were quite low, here we required almost seven metres to complete this order, eventually we sourced this glass and work could begin.
Each traditional Leaded Light was manufactured in-house with hand drawn lead came to match the original dimensions exactly all hand made to exacting standards. We were able to complete this order on time with very pleasing results.
Here we see the order completed and being re-glazed
Eastbourne complete house
A typical 1930s home in Eastbourne Sussex.
Restoration of Leaded Lights and Metal Frames.
Few metal windows remain today except where decerning home owners require authenticity. Many of these windows that are now lost could have been restored. We have had great success over the years restoring not only the leaded glass but also the metal frames As in this case here a complete house of metal windows and leaded lights totally restored.
The metal windows here were carefully removed, they were showing signs of rust penetration on the lower rail which is often the case. The aperture was temporarily glazed for security whilst the metal frames and leaded lights were put into work.
We removed the leaded lights from frames, then air blasted the frames clean of all paint and rust residue, the full extent of rust erosion was then revealed, where excessive, we are able to remove the lower rail and replace it thereby saving these historically important metal windows, in this particular case the erosion was not excessive so they were treated with a zinc primer before being recoated and fit to be repositioned and so saved. The handles and stays where missing were replace with like for like handles from our stock here.
The Traditional Leaded glass panels were made from English hand drawn lead came in a square pattern originally. The lead came was found to be heavily oxidised with cracks and with an element glass sealer missing which had fallen away allowing water to ingress.
The glass panels were carefully photographed before removal, here in the studio two paper rubbings were taken of the original sinuous lead lines, They were carefully stripped down,  the glass was cleaned using a de-ionised water and lint free cloths and laid on the first rubbing. Where glass was broken, we selected glass from our archive to match the original.
The glass was then rebuilt using English hand drawn lead came exactly the same dimensions and profile as the original, each lead joint soldered and then waterproofed following a drying period the traditional leaded glass and metal casements were repositioned back into the original frames. fit to face a secure future.
Victorian House, Eastbourne.
Victorian Terraced House Eastbourne Sussex.
Traditional Leaded glass panels were required where none existed before. A design was submitted to this client of a typical Leaded Light of this Victorian era. To be made in exactly the same way that it would have been made if fitted when the house was new, made from English hand drawn lead came in the pattern seen here.
A obscured glass pattern was selected also of the era plus coloured glass in detailed areas.
The glass panels were hand built in our Horsham studio, built over a paper drawing exactly to the sinuous lead lines, The glass cut to the intricate shapes then leaded together using English hand drawn lead came exactly  as would have been used in that era, each lead joint soldered and then waterproofed, copper ties added to suit the saddle bars for strength, following a drying period the traditional leaded glass were positioned into the existing original door frame.
Clifford G Durant. P.A.C.R. I.O.C. Accredited Glass Conservator of Historic glass.
ABOUT US
We are proud to specialise in traditional Leaded Light glass, we concentrate solely on Traditional Leaded Lights and refurbishing steel windows. We keep large stocks of traditional glass and metal window components. Clifford Durant A.C.R. is an Accredited Glass restorer/conservator.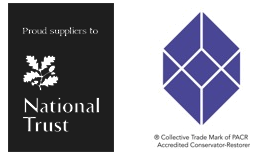 CONTACT US
The Glasshouse Studio
New Street
Horsham
West Sussex
RH13 5DU
Telephone: 01403 264607
Mobile: 07860 310 138
Email: cliff@surreyleadedlights.co.uk