Restoration of coloured leaded lights & stained glass.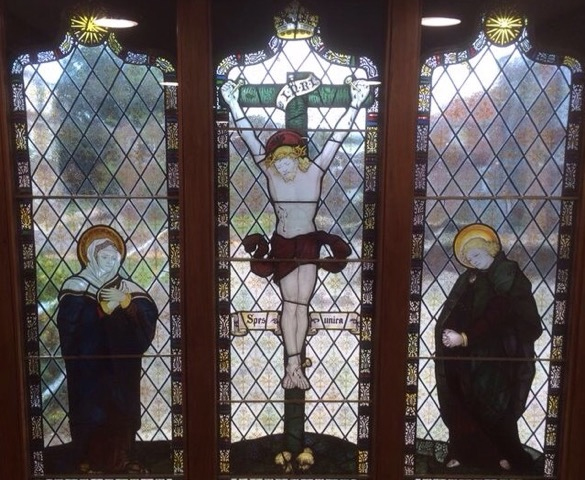 The full restoration of Charles Eamer Kempe glass for the University of Chichester. This glass was originally sited in the Old Chapel in the University grounds, then following refurbishment  back in the 70s the glass was removed and placed in a cellar of one of the main buildings.
Following fundraising the glass now stands proud in the New Chapel in the University grounds fully restored but in a position that it can be viewed.
Brighton door panel
1920s Terraced House Brighton Sussex.
A Traditional Leaded glass panel was required where none existed before. A design was submitted to this client of a typical Art Deco Leaded Light of this 1920s era. To be made in exactly the same way that it would have been made if fitted when the house was new, made from English hand drawn lead came in the pattern seen here.
Several historic obscured glass patterns were selected of the era and coloured glass in the detailed area.
The glass panels were hand built in our Horsham studio, built over a paper drawing exactly to the sinuous lead lines, The glass cut to the intricate shapes then leaded together using English hand drawn lead came exactly as would have been used in that era, each lead joint soldered and then waterproofed, copper ties added to suit the saddle bars for strength, following a drying period the traditional leaded glass were positioned into the existing original door frame.
Coloured and tinted glass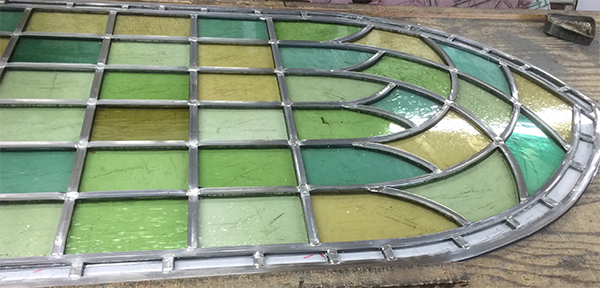 Coloured and tinted glasses held in stock constantly for homes and Churches.
This is a Gothic headed coloured leaded light in full restoration with English hand drawn lead came.
ABOUT US
We are proud to specialise in traditional Leaded Light glass, we concentrate solely on Traditional Leaded Lights and refurbishing steel windows. We keep large stocks of traditional glass and metal window components. Clifford Durant A.C.R. is an Accredited Glass restorer/conservator.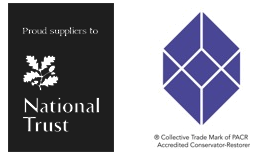 CONTACT US
The Glasshouse Studio
New Street
Horsham
West Sussex
RH13 5DU
Telephone: 01403 264607
Mobile: 07860 310 138
Email: cliff@surreyleadedlights.co.uk