Missing window handles and stay replacements.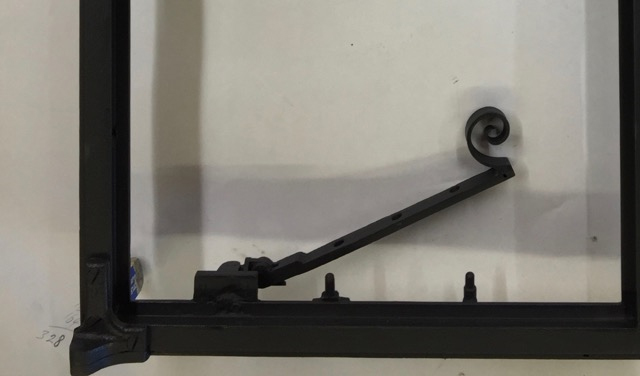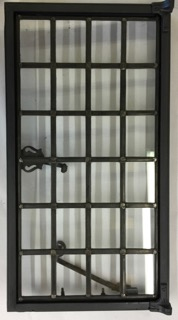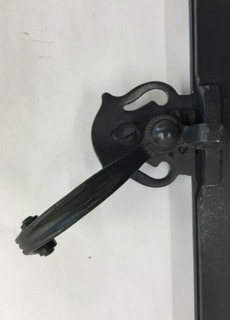 We are often asked to supply metal window handles and stays where they are missing or broken. We stock a large selection of various handles and stays from the Victorian to 1950's era.
We have removed and stock from salvaged metal frames since the mid 1970's old handles and stays that are no longer produced anywhere in the world, therefore we are often able to match and supply ironwork or clients across the south east of England.
Our clients include Historic houses, Listed Buildings, The National Trust, English Heritage and homes up to the 1950's. We stock, Iron, brass, bronze and a small stock of zinc handles and stays, please contact us by sending a photo of your handles and stays, we will check our archive stock for a match.
Repairs to stone mullioned windows.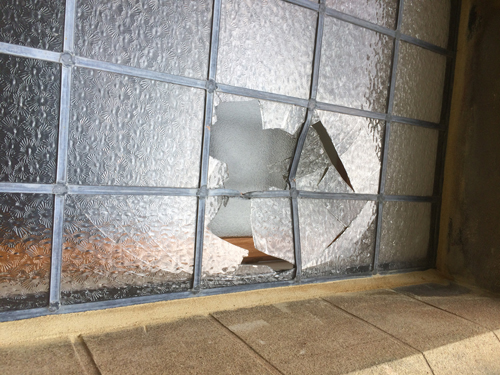 Here you can see a traditional leaded light that had been damaged by builders removing scaffold. This glass is an early English obscured glass pattern from the 1930s. We carefully removed the complete panel and boarded the aperture securely.
At our studio we stripped the panel of lead, cleaned all of the remaining glass and added to the panel where the glass was broken with glass from our own stocks. The leaded light was then completely rebuilt using English hand drawn lead the installed back into position to face the future in the best condition.
Mill Hill London
Restoration of the complete west window inclusive of tracery.
This beautiful three light west window had been in position for almost 150 years, the stone however was weak and began to erode away to an extended amount, to the point that the stonework required complete replacement.
Our work consisted and full restoration of the glass. Although the stonework required complete replacement the glass was sill in good condition, the lead that housed the glass however was in dire need of replacement, therefore all of the glass was saved and reused in the delicate work of rebuilding the glass into new windows to face the next Century.
Taking intricate templates of the various shapes, work began on rebuilding the glass into new leaded glass panels with new hand drawn English lead came to match the original lead, all of the glass was cleaned and where the glass was broken, new glass was selected from our own archive stocks of heritage glass. The finished panels were waterproofed before being re glazed into new stonework with a lime based mortar.
Wrought Iron Windows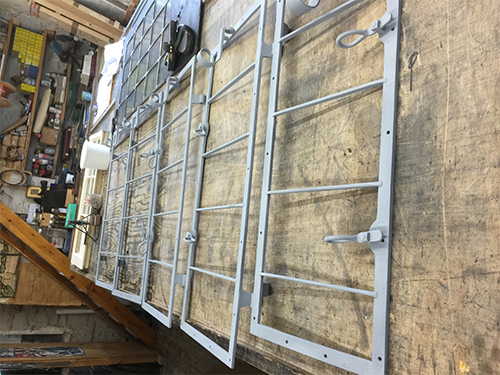 Traditional Sussex Pin Windows full restored before being fitted with restored leaded lights. These restored windows are over 170 years old, we collected them from a listed property with leaded lights attached but in very poor condition.
The leaded lights and wrought iron frames were put through our works for complete restoration before being installed back in the listed house. It is a joy to work with such precious old artefacts, to place them back into position fully restored is even more of a thrill.
Metal window restoration. Weald and Downland Museum.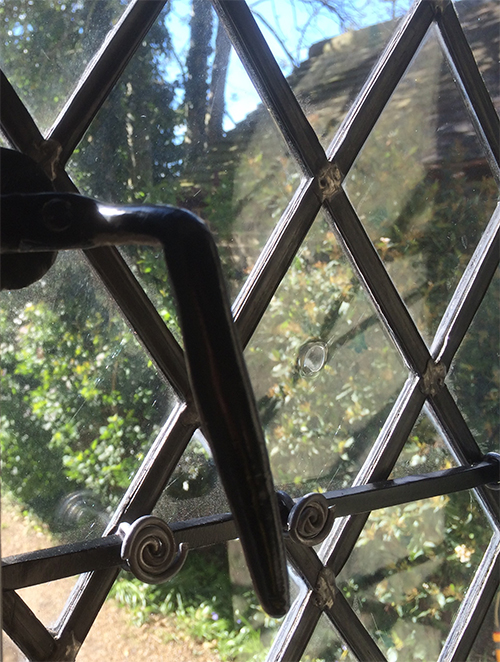 Traditional Sussex Pin windows in full restoration with antique glass. This window was for restored for The Weald and Downland Museum near Chichester.
We were commissioned to restore all of the traditional leaded light windows for the newly erected Tindall's Cottage which dates from between 1700 – 1725 it was moved from Ticehurst to Singleton in 1974 and re-erected in 2012.
A Victorian opening casement window for restoration.
This was an interesting project as we hadn't seen a metal casement exactly the same as this before.
The casement was from near Hindhead in Surrey, A Manor House with stone mullions and leaded light windows. We were asked to view this casement as it wouldn't open and there were several broken panes of glass. We found the lower rail had rusted, the sides of the frame were quite swollen and the leaded light was bowing. We arranged to carefully remove the casement from the stonework, taking extra care as the frame was quite rusty.
Back at our Horsham studio we removed the leaded light to reveal the full extent of the deterioration to the metal casement frame, the lower rail had rusted through revealing daylight and although the sides were tight when in the stonework frame, these sprang back out once the pressure had been released.
The leaded light required complete re-building with new English hand drawn lead came but as much as possible of the interesting old glass was reused. The casement was shot blasted clean which removed any remaining rust, we then replaced the lower rail by welding a new lower rail in position to match the original, finally we coated the frame with a zinc oxide paint followed by an undercoat of satin black paint.
With the leaded light fully restored the frame was re-positioned back into the stonework with a lime based mortar and the leaded light reglazed, the client painted the topcoats after a the putty had gained a skin approximately a month later.
Sussex Pin wrought iron window frame.
This type of window is quite rare to be seen in Sussex and surrounding Counties.
It is usually associated with oak subframe and tradition Leaded Lights. This historically important handmade window and glass is very rare and usually seen in Listed Buildings, Conservation is imperative where they are failing. The original opening casements are Blacksmith made in wrought iron with internal saddle bars to retain strength to the leaded panels. defined as Sussex Pin openers and date circa 1740- 1910.
The Traditional Leaded glass panels that were attached were made from English hand drawn lead came in a diamond, rectangle, roundel or lozenge shape were original patterns.
The lead came can be found to be heavily oxidised with cracks and in and with most of its glass sealer missing allowing water to ingress. Usually a quantity of internal copper ties are broken, these were originally tied securely to the internal saddle bars for additional strength, when these snap it can start allowing the glass panels to bow and the glass to break.
The wrought iron frames are carefully removed along with the glass, they will be taken to our Horsham Conservation Studio. The metal frames then carefully repaired where broken, all remaining paint and rust is  removed with an air treatment then repainted with a zinc primer base and black undercoat.
The glass panels will be carefully photographed before careful removal to enable us to match them exactly, in the studio two paper rubbings are taken of the original matrix of lead lines, They are carefully stripped down lead from glass,  the glass was cleaned using a de-ionised water and lint free cloths and laid on the first rubbing, where glass was missing, glass from our archive was selected to match the original.
The glass is then rebuilt using English hand drawn lead came exactly  to the same dimensions and profile as the original, each lead joint soldered and then waterproofed, new copper ties added to suit the saddle bars, following a drying period the traditional leaded glass and wrought iron casements can be repositioned back into the new oak frames. fit to face the next hundred years. Sussex Pins were originally made in Sussex but slowly over the centuries crept over the borders into Surrey, Hampshire, Kent and London.
Clifford G Durant. P.A.C.R. I.O.C. Accredited Glass Conservator of Historic glass.
ABOUT US
We are proud to specialise in traditional Leaded Light glass, we concentrate solely on Traditional Leaded Lights and refurbishing steel windows. We keep large stocks of traditional glass and metal window components. Clifford Durant A.C.R. is an Accredited Glass restorer/conservator.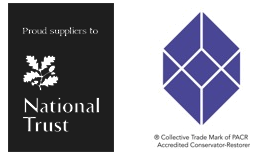 CONTACT US
The Glasshouse Studio
New Street
Horsham
West Sussex
RH13 5DU
Telephone: 01403 264607
Mobile: 07860 310 138
Email: cliff@surreyleadedlights.co.uk